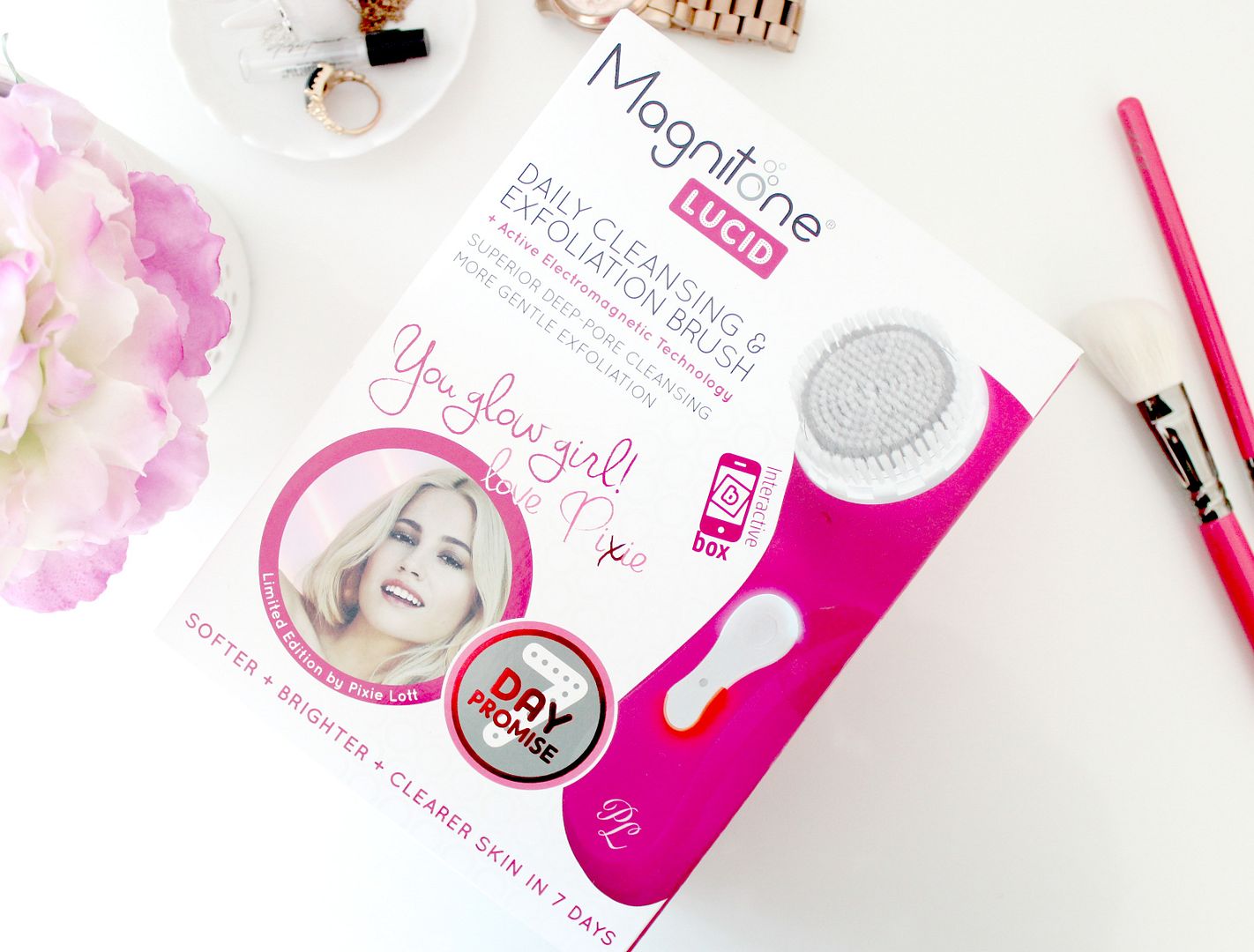 I first heard about face cleansing brushes years ago when everyone went mad for the Clarasonic. However, due to its high price tag, it was something I never felt I needed or wanted to try. I have pretty sensitive skin and am lucky in the respect I don't suffer with many blemishes so I never thought this kind of tool would be beneficial to me personally. However, when I heard about Magnitone and its much more affordable price tag, I was pretty intrigued and figured it would be worth a try.
Magnitone brand themselves
with a '7 day promise' - the promise that your skin will look softer, brighter and clearer in only 7 days of use. As always, with any beauty product or tool that offers such big claims, I was skeptical
. However, after receiving my
Magnitone Lucid
** recently, and giving it a go for the seven days, I have to say, I'm super duper impressed!
Before I get into what this product actually does for my skin and how it works, lets talk about the packaging. Firstly, I love that its Pink. Yes, call me a typical girl but it looks so pretty sat on my bathroom side. You even get a Pink headband included too which is handy as I find it rather annoying getting my hair all wet hair whilst washing my face! You've probably noticed the packaging features pop princess Pixie Lott too and that's because she recently became the face of the new Magnitone Lucid, a cheaper alternative to the original Magnitone. As a big fan of Pixie's, I was excited to hear about the partnership, especially as she's been so open about her battle with acne in the past.
Another thing I LOVE is how well designed this product is and how Magnitone have thought of everything to ensure the user experience is the best it can be. Its exceptionally lightweight, fits into the hand nicely and comes with a wireless travel charger so you can take your Magnitone away with you and charge it with ease. The wireless charger is magnetic and simply attaches to the bottom of the magnitone when you want to charge it - genius! However, if you'd rather charge it with the actual plug before going away, a full charge will last two weeks. I've only fully charged mine once since receiving it and two weeks later its still going strong.
I also love that it has simple features because for someone like me who rubbish with technology, lots of different buttons and settings can be off-putting. With the Magnitone there's just one button which is used to turn the device on and off and change the settings. You simply press the button once for the Deep Clean mode or twice for the Sensitive mode so no matter what skin type you have, one of these setting will suit. I personally prefer using a mix of settings depending on which area of my face I'm working on. I find my forehead and chin can handle the deep clean but I have to use the sensitive setting on my cheeks as they're slightly more delicate.
So, you're probably wondering how the Magnitone actually works and how it benefits my skin? Well, the general idea behind it is to cleanse the skin way more efficiently than the hands alone. When using our hands, although we're removing makeup from our face, we're not cleaning deep into the pores and removing all the dirt from them which can then lead to blocked pores and blackheads or spots. However, due to the 10,000 pulsed oscillations (vibrations) offered per minute by the Magnitone, it provides a deep cleanse ensuring every ounce of dirt is removed from the skin and the pores are clear of any crap, to put it bluntly. It can still be used with your regular cleanser too, you don't have to buy any special cleansing solutions to use with it so that's another big plus point for me.
The vibrating sensations also exfoliate the skin which is my favourite part of using it! It comes with a built in timer of one minute so when you turn it on it will do five 20 second bursts and then stop for a second or so to enable you to move on to a different area of your face. I must admit, I don't always follow this or use it as advised, I just use it for longer on the areas I feel I need it (i.e - my nose or chin). Its pretty self explanatory really and you know your skin better than anyone else so just do what works for you. However, if you do like to follow the rule book, having these 20 second intervals in place is really handy as you'll know when to move on to the next area. It really is foolproof! Its also 100% waterproof so its fine to use it in the shower or bath. I find this really useful and have been taking it into the shower with me most mornings.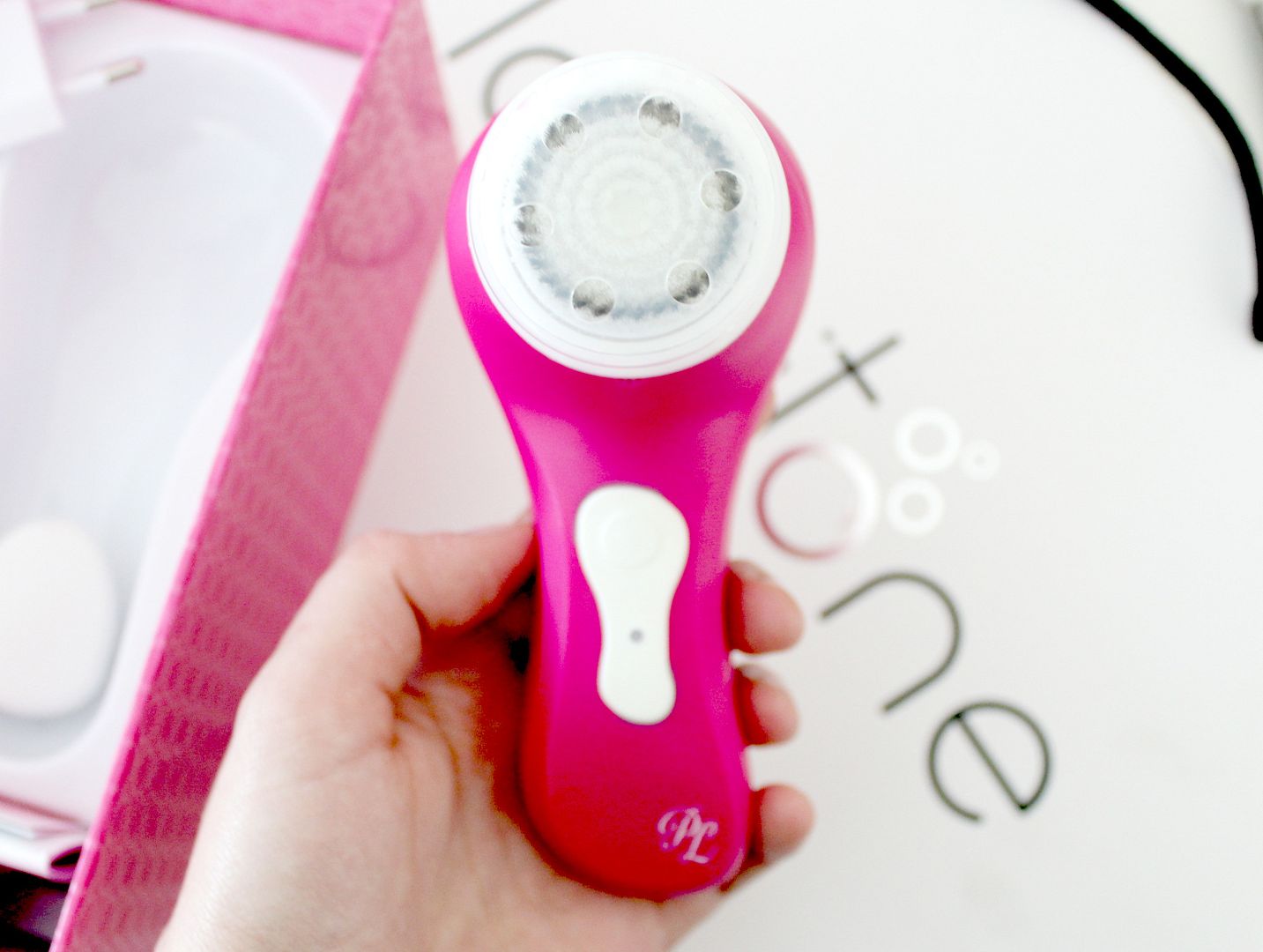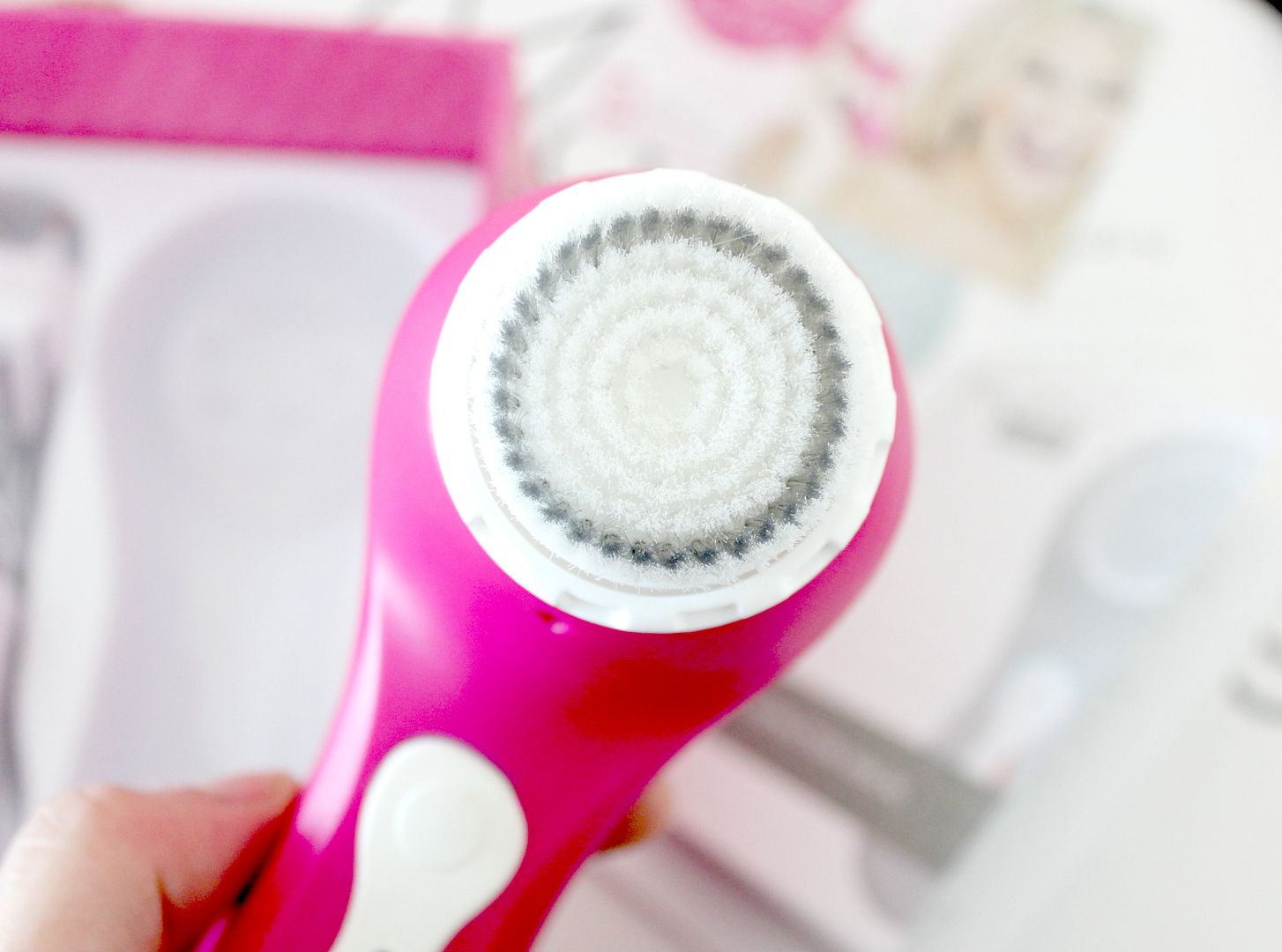 Okay, so I think we've got how it works pretty well covered. Now lets get on to the good stuff - the results. As I mentioned at the start of the post, I'm fairly lucky in the respect I've got pretty clear skin and don't get a great deal of breakouts. If I do get a break out, it tends to be around "that time of the month" and those horribly sore under the skin types - ergh! My skin type is combination so I can get dry patches on my cheek but also an oily t-zone - not ideal! I also have really sensitive skin and certain skincare can cause havoc and leave my skin feeling on fire. Again, not ideal. With this being said, I was concerned the Magnitone would be too harsh for me and I'm not going to lie, when I first used it I was a bit scared the vibrating sensation would damage my skin. However, I was clearly being silly as I was literally blown away but the results from the first use.
I worked my cleanser (Elemis cream cleanser) into my face with my hands as normal at first and then did a once over with the Magnitone, concentrating on any areas I felt my pores were blocked. Not only did my skin feel 10x softer than usual after I washed the cleanser off (I'm talking silk like) but it looked brighter and glowing too. I also feel like my skin drank my moisturiser up like never before which is something Magnitone promised would happen - apparently using the Magnitone allows your skin to absorb skincare products more meaning they can work more efficiently. Win win! Another thing I noticed was how much nicer my base makeup applied - much like my moisturiser, my foundation smoothed onto my skin with no issues and looked pretty flawless, if I do say so myself.
After seven days of continued use, both morning and night, the changes in my skin have been great. Its looking smoother, clearer and brighter, just as Magnitone promised.
I feel like its one of those 'where have you been all my life' products as its literally revolutionized my skincare routine. I feel with continued
use the results will only get better and I'll be well on my way to having the skin I've always wanted! Thank you Magnitone! You can get yours here for only £49.99 which is a massive bargain as it usually costs £69.99. I'd say its well worth the investment!
I do apologise for such a HUGE post but I really wanted to give you a total overview and a really in-depth review so you really see what its all about. Is the Magnitone something you'd like to try?