I'm a big fan of NARS and I'd go as far as saying its my favourite beauty brand alongside MAC. I've loved every single product I've tried but because of their high end price tag, its not a brand I buy for myself very often. With this being said, I thought Christmas would be the perfect time to feed my NARS addiction and ask Santa very kindly for a couple of items from their Christmas collection! I was very lucky to receive the stunning Virtual Domination Cheek palette and the Digital World lip coffret which contained five slightly smaller than full size NARS lip pencils. Surprisingly, until Christmas, I'd never tried any of NARS lip products so I was super excited to try these!
As you can see from the photos, the set included a good range of shades from a nude to a deep vampy red and they're all beautiful, there isn't one I don't like or wouldn't wear. I love the simple and sophisticated packaging too and the colour indicators around the bottom of each pencil is very handy as it makes them easy to identify when they're lined up in my Muji drawers. As you can see, some of them have black lines around the bottom while others are a plain colour - the plain ones are the Velvet Matte pencils and the ones with a line are the Satin pencils. I'm not sure why NARS have designed them this way but again, its a good way of telling them apart.
The two Velvet Matte shades in the set are Cruella and Iberico which are both crazily pigmented. Cruella is a classic deep red shade and Iberico is a vivid orange toned red. Considering I don't usually like matte lip formulas, these two lip pencils are absolutely stunning. They are quite drying without a lip balm underneath but the amazing pigmentation and longevity certainly makes up for that. I'd say these are the perfect night out lip products are they make a statement and won't budge, even when eating and drinking.
The other three shades are all Satin's and they include Yu which is a vibrant fuschia pink, Descanso with is a pale peach and Torres Del Paine which is another peachy shade that leans more towards a classic nude with pink undertones. Being a bold lip girl, my favourite of these shades would have to be Yu as the colour is so vivid and I know I'm going to get loads of wear out of it in the Summer month. However, considering they're fairly pale, I do really like the two peach shades and because of the glossy formula they're great for an every day natural look. This formula is definitely more moisturising, glossy and comfortable on the lip than the Velvet Matte's but they do have a tendancy to wear off that bit quicker.
I believe all of the shades I received are available to buy individually and full size from NARS, other than 'Iberico' which was exclusive to the gift set. I really hope they do release it into the permanent line up though as its probably my favourite from the whole set and really striking on the lip. I love it!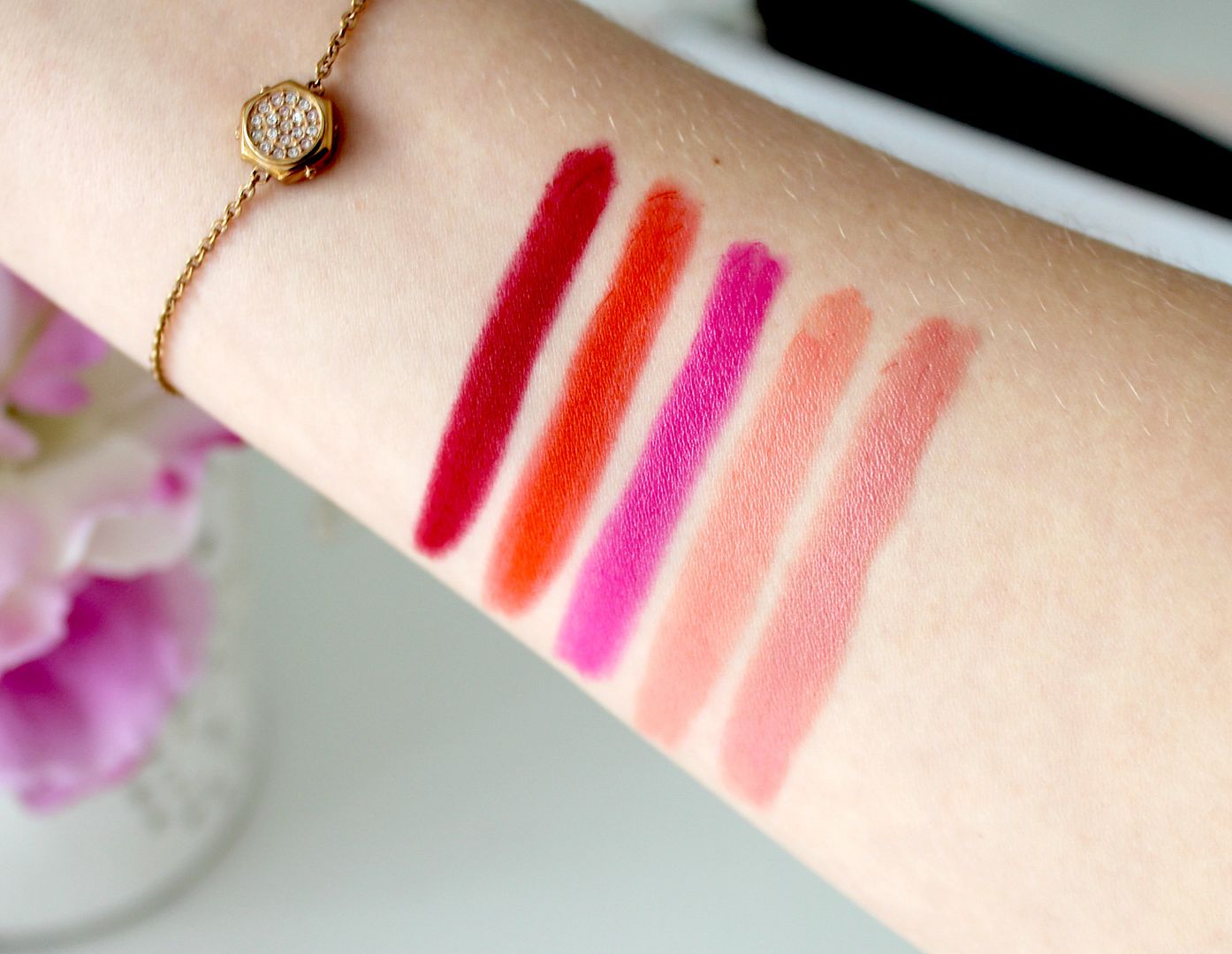 L:R Cruella /
Iberico /
Yu /
Descanso /
Torres Del Paine
Overall I'd say these lip pencils are well worth a try. I'd go for the Velvet Matte's if you love a bold lip that lasts or the Satin's if you prefer a more subtle glossy look. They're available to buy here and here from Space NK and the full size versions are priced at £18.00. I know its not cheap but considering they're a pencil rather than a standard lipstick, I imagine they'll last a really long time. They're also perfect for popping in a handbag or clutch bag as they don't take up much space!
Do you like the look of these NARS lip pencils? Can you recommend any other shades?