Over the past twelve months, the world has gone mad for all things Kylie Jenner and even more so for her now famous pout. Towards the start of 2014, a selection of Instagram snaps saw Kylie with much fuller lips and soon after, everyone wanted to know what she was using to create the illusion of big lips. Lots have speculated she's had lip fillers and if so, there's probably not a lot a lipstick and liner can do. However, if makeup trickery is what her new look is down to, I can see why so many girls want to re-create it, including me. She looks amazing!
The look Kylie has been sporting is a very 90's style brown/pink toned neutral lip which is clearly outlined with a lip liner. I have to admit, I used to be really scared of lip liner as I always imagined it would be very unnatural, but after seeing the amazing effect it gives Kylie's lips, I thought it wouldn't harm to give it a go.
After a bit of searching around online and a lot of watching Kylie Jenner makeup tutorials on YouTube to see which products would work to create the look, I decided on two products from MAC.
Brave lipstick
and
Soar lip liner
. I actually watched a Pixiwoo interview with Kim Kardashian where she said Kylie uses Soar so that was a must-have and I really liked the look of Brave as its more of a pink toned neutral which I find more flattering on my pale skin tone than a true nude / beige shade.
I received both of the products as a Christmas present from my boyfriend and I've not stopped using them since - I'm completely in love with them worn together and worn separately. Brave is the most gorgeous neutral rose toned pink and perfect for an every day look whilst Soar is slightly deeper and has more brown tones for that classic Kylie look.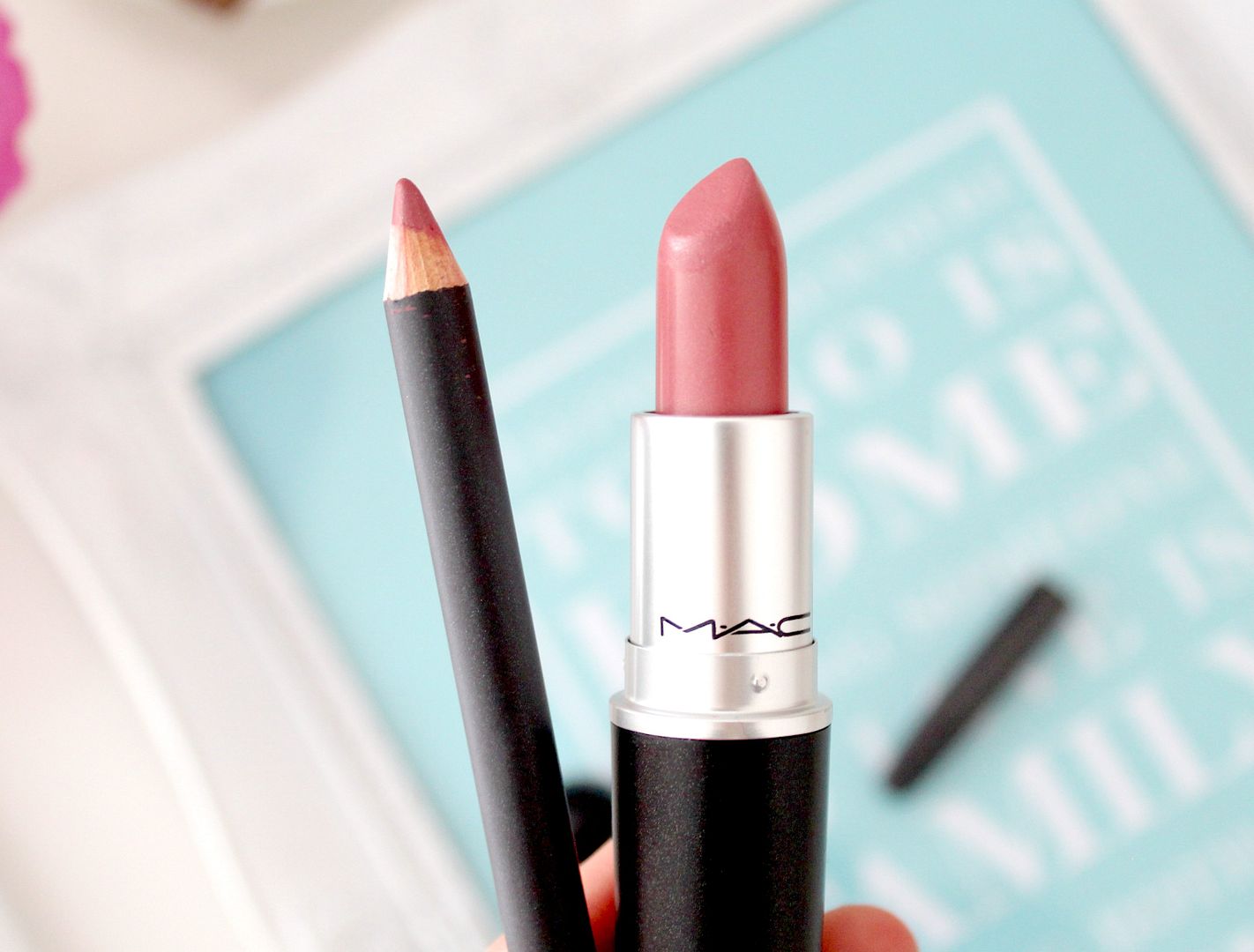 I've been wearing Soar all over the lip to create quite a deep look and then adding Brave to the centre of my lips to lighten them up a touch and achieve a two-tone effect. According to Kim, Kylie only wears lip liner with no lipstick or lip gloss but I'm presuming she adds a darker one to the outer edge of her lips as they tend to be a lot more defined and a deeper shade on the outer edges. Both of these products are very comfortable on the lips, even the lip liner which I was quite surprised about as it has a matte finish. Its the first MAC lip liner I've ever owned and I'm so in love with it - I now have a list as long as my arm of more I want to buy! Brave has a Satin finish so its creamy and moisturising without being glossy which is perfect for the Kylie look as she tends to favour the matte look.
I tried to take a picture of the combo on my lips but my camera just wouldn't focus and I ended up giving up on it. I took the photo below on my Iphone which shows how full it makes my lips look but it has made the colour of the products slightly darker than they actually are so if you want to see a true to life swatch, I'd say this photo I found on Pinterest is spot on.
Overall I'm completely obsessed with this combo and can't stop wearing it. I've always been a brights girl so I never thought I'd find myself leaning towards more neutral shades but these are really gorgeous and still add lot of definition to my lips without being too bold. I also love that I can wear this look both day and night - it looks great with a simple eye in the day time or glammed up with smokey eyes in the evening. Well done Kylie Jenner, you're onto a winner with this one.
Are you a fan of the 90's Kylie Jenner lip look? Do you like Brave and Soar?