My most popular blog post of all time is the one about my IKEA Malm dressing table and makeup storage. When I wrote that post, I never expected it to go down so well but to this day, I'm still getting emails asking me questions about it or finding photos from the post pinned to lots of boards on Pinterest. Crazy! I guess the reason it was so popular is because people love to be nosy and love a little snoop at the way other people do things. I know I certainly do anyway. I could spend hours reading makeup storage posts or watching makeup collection and room tour videos on YouTube so its not surprise that these kind of posts go down well. I also find they give me so much inspiration for how I can store my own makeup stash without it cluttering up my bedroom. Makeup is pretty so it should be displayed nicely too!
With this being said, I decided it was time to do an updated storage post as I recently moved flat and since my original post, my set up has changed and I've bought a few extra bits and bobs to make storing my stash that bit easier. When my boyfriend and I were looking at new flats, one of my requirements was a bedroom with large windows, lots of natural light and space for all my storage. Our new flat couldn't be more perfect as it has large ceiling to floor windows along one wall and the corner of the room shown in these photos fits all my storage in perfectly. I also love that it has white walls to match the white furniture. I feel like I now have the light, bright and dreamy bedroom I've always wanted.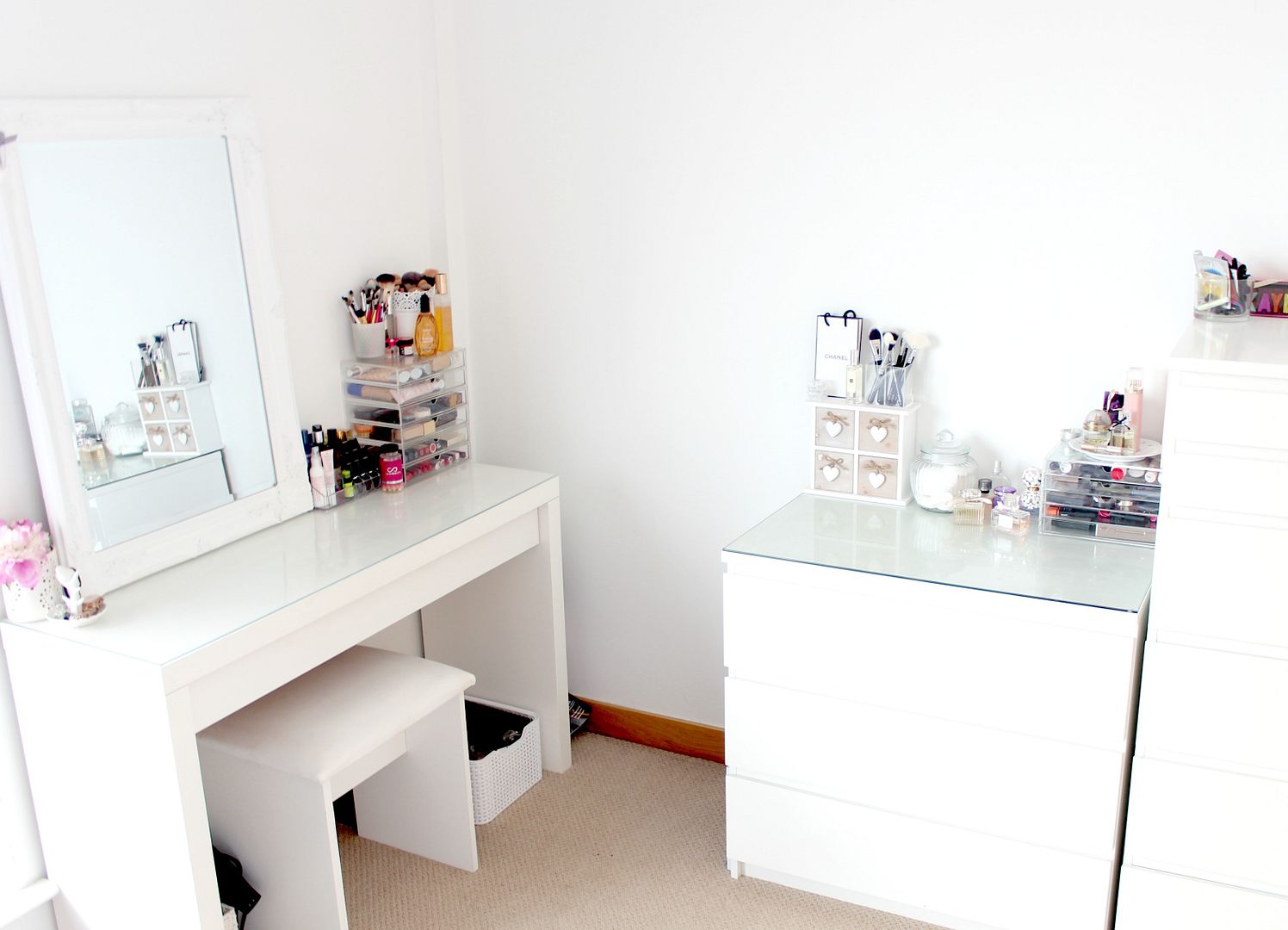 So first things first is the furniture which is all from the IKEA Malm range. I absolutely love this range of furniture as its SO affordable - the dressing table, chest of drawers and tall set of drawers photographed cost just over £200 which is such a bargain! In my original post I just had the dressing table which stores my makeup and the tall drawer unit which stored things like hair/skincare and body products. However, since my collection of products has grown considerably since then, I now have the set of three drawers too. These now hold skincare in the top drawer, hair care in the middle drawer and electricals/miscellaneous bits and pieces in the bottom drawer. The tall unit now holds body products, nail products, my palettes, jewellery and makeup/travel bags. I love that it has the two thinner drawers at the top as they're great for storing my palettes and special jewellery while the drawer at the very top with a flip up lid is fab for keeping my fashion jewellery in.
I've also replaced the small white mirror I had in my previous post for
this
pretty shabby chic one. I found it on Amazon for a reasonable price and couldn't be happier with it. I eventually want to put it up on the wall but for now, it will do just standing up against the wall. I still have the white stool which I had in my previous post and this slots underneath the dressing table nicely - you can buy it
here
but it does cost £80.00 so I'd recommend
this one
as a cheaper alternative.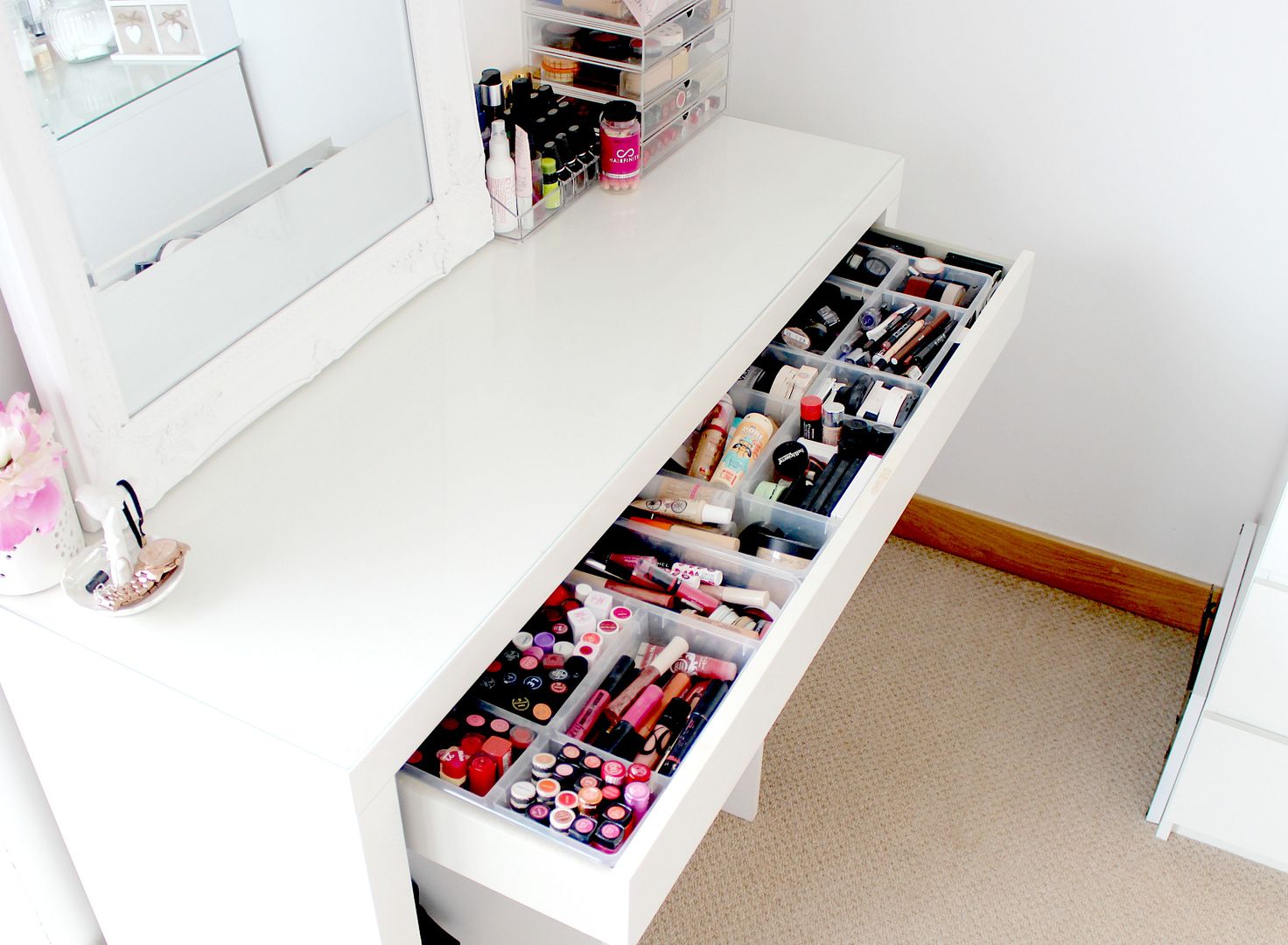 As it was in my last post, my makeup is stored inside the pull out drawer of my Malm dressing table which I love
a lot
. Its just so handy to tuck it all away in there and considering its a fairly thin drawer, I've managed to squeeze a good amount of products in there. I use the IKEA Antonius basket inserts inside the drawer to keep all my makeup tidy and in different sections such as lips, face, blush/highlights, eye pencils and mascaras. I went into more detail about what's in each drawer in my last post here if you want to know more.
Being a beauty blogger / makeup addict / shopaholic (you get the picture), I was obviously going to have makeup over spill that just wouldn't fit into the dressing table drawer so that's where Muji comes in. I currently have two sets of three Muji acrylic drawers stacked on top of each other on my dressing table and one of the five drawer sets on top of my chest of drawers. These contain various things but mainly things that won't fit in the drawer (especially base products) or my favourite lipsticks / lip gloss as these are the products I have most of. To be honest, I'll probably end up buying another five drawers to stack on top of the other ones as I think they look really pretty when they're stacked tall and because I have them spread out, I don't feel they make the area look cluttered. I might do a separate post on what's inside my Muji drawers if this is of interest? Let me know in the comments.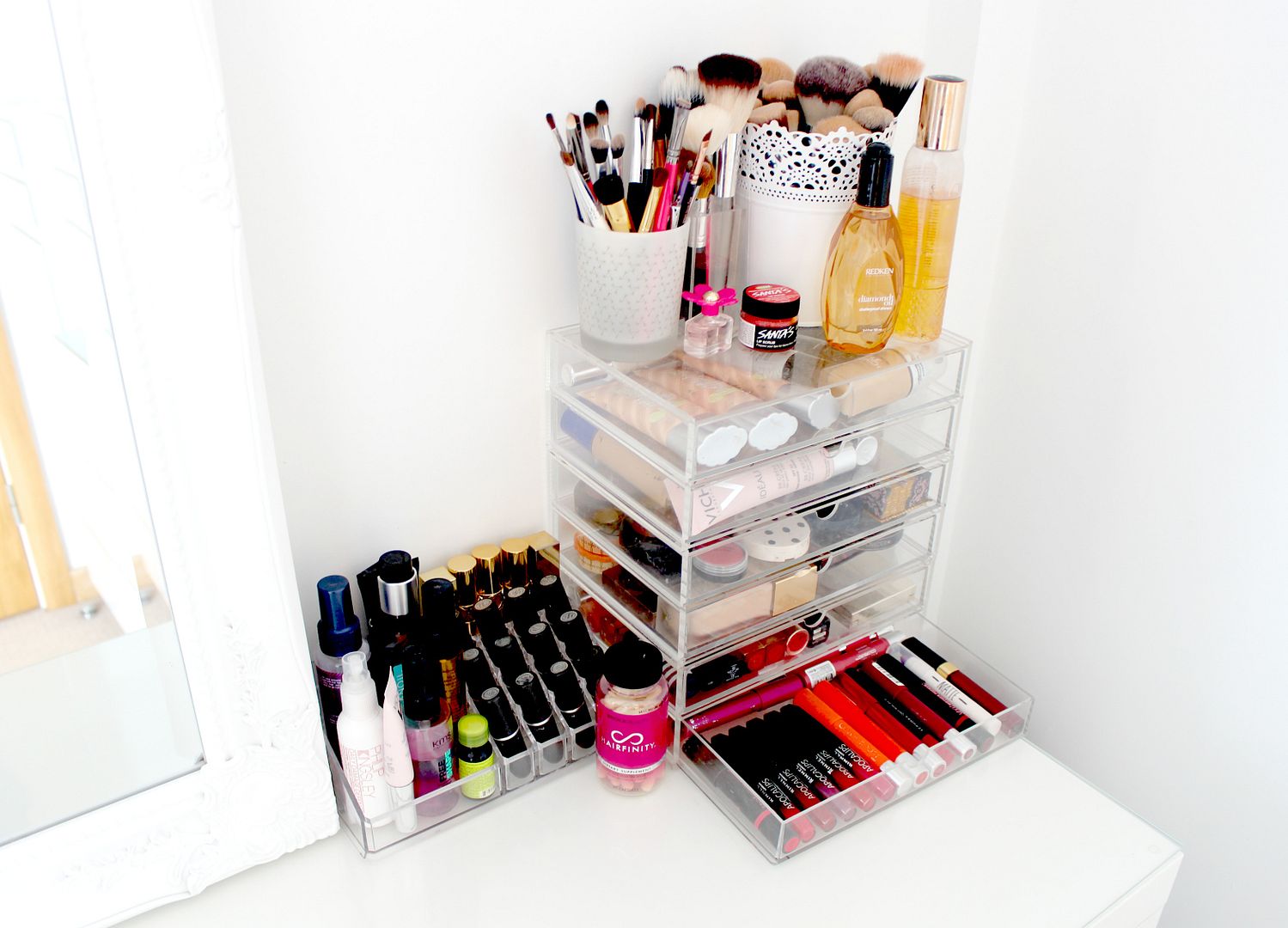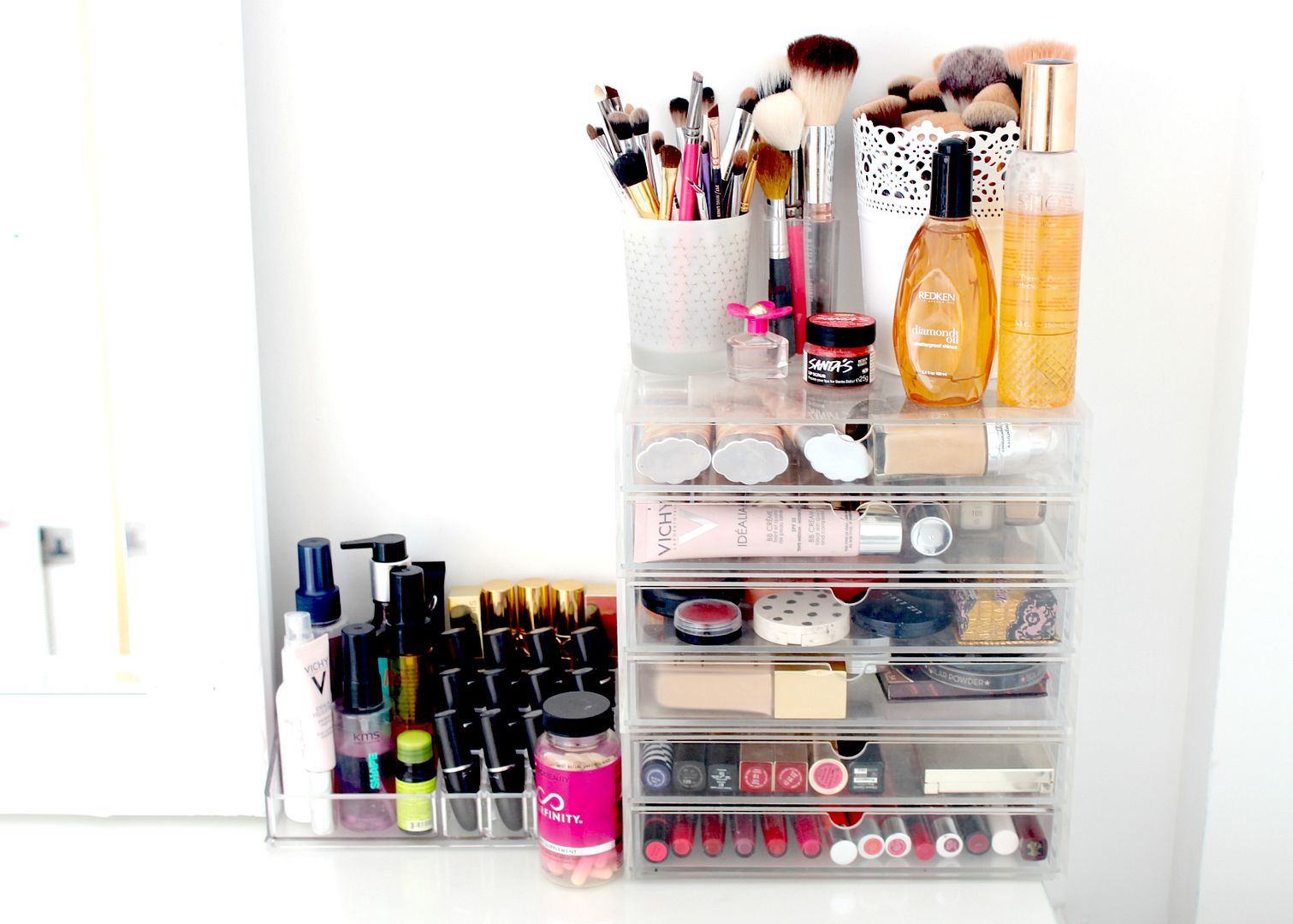 As well as the acrylic drawers, I also have an acrylic lipstick holder which sits next to my set of six Muji drawers on my dressing table. I'd always wanted one of these to display my MAC lipsticks so when I found this one on Amazon, I was chuffed to bits. It also has other compartments which I keep my daily hair care products in so they're easy to grab in the morning.
Other nick nacks I have sitting on top of my drawers include my makeup brush holders which are displayed on top of the Muji drawers
on my dressing table. I have three different
brush holders at the moment - the one on the left is an empty Aromatherapy Associates candle which holds eye brushes, the middle one in a Muji acrylic pen pot and the one on the right is an IKEA plant pot - these two both store face brushes. I also have a cute little shabby chic distressed wood drawers which sits on top of the chest of drawers, mainly for decorative purposes. My Nanna bought me this when I moved flat as she knows I love all things shabby chic and I think it looks super cute. I've popped a few small skincare pieces and lip balms inside the drawers. On top of those drawers I have a Chanel bag (I couldn't bring myself to throw it away), my 'Invisibobbles', a Jo Malone scent and my new Zoeva brushes which I'll be reviewing soon.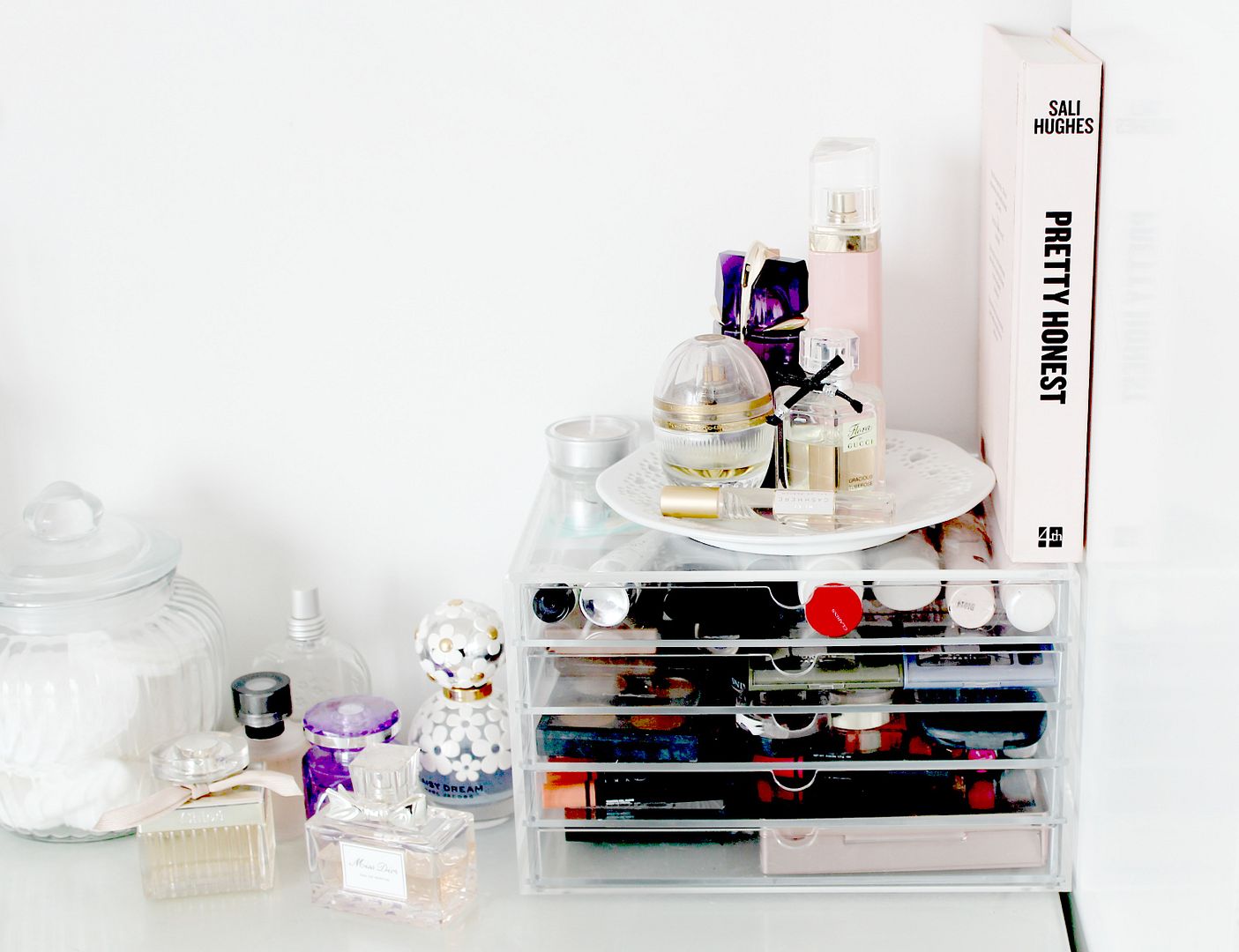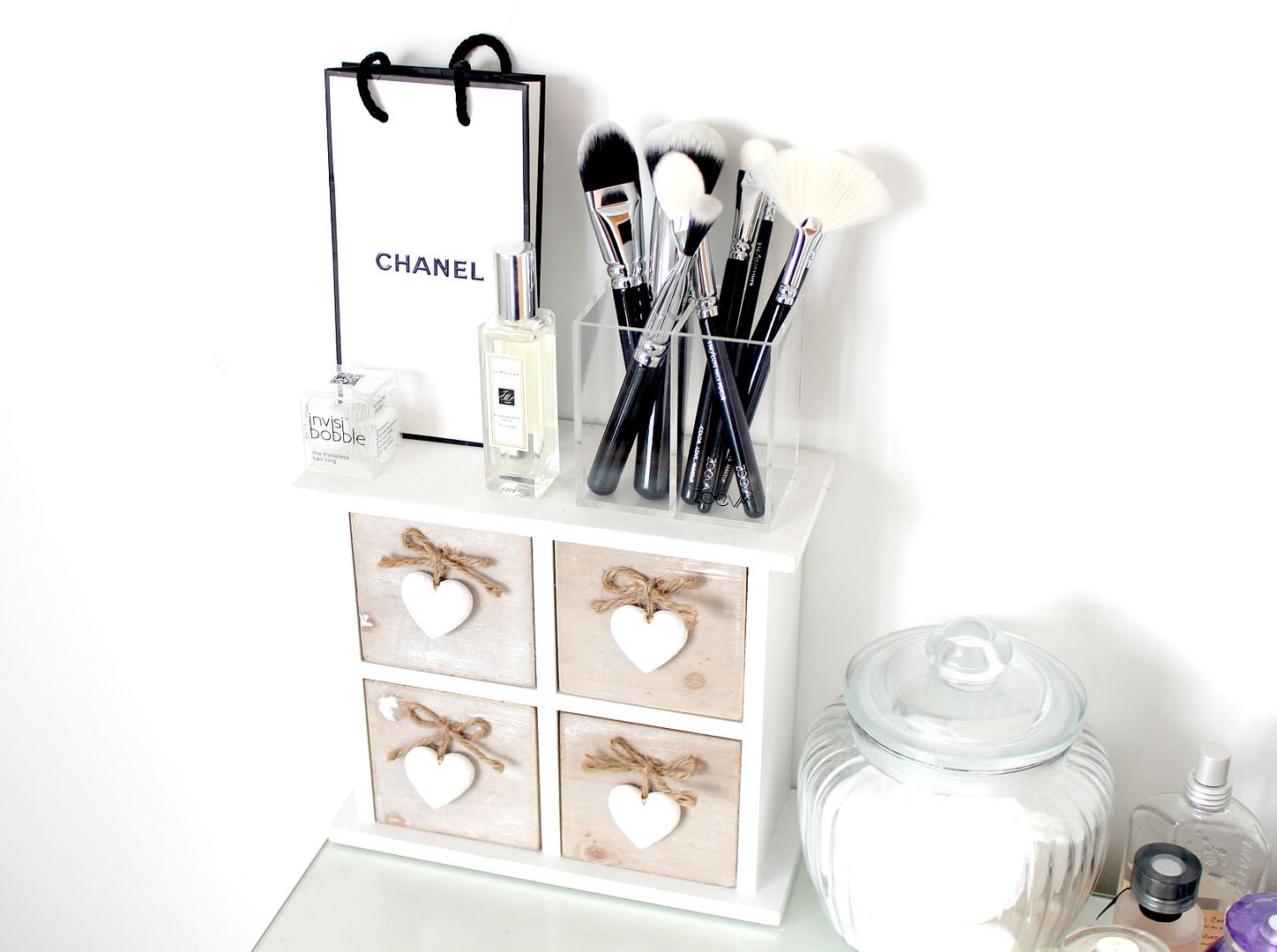 I also like to have all my perfumes out on display so these sit on top of my chest of drawers next to and on top of my five Muji drawers. The ones on top of my Muji drawers are displayed on my Yankee Candle love heart tray which adds a cute touch. I also have my Sali Hughes 'Pretty Honest' book on display as its so pretty! The final nick nack on top of my chest of drawers is a glass jar which is home to my cotton pads. I like to keep these in here so they're easy to grab morning and evening to do my skin care routine.
On the very end of my dressing table I keep some pink artificial flowers and the cutest little ring / jewellery holder from Gifts and Pieces which I keep my watch, hair ties and small pieces of jewellery on. I also use both of these things are props when taking my blog photos on my dressing table. I get asked where I take my blog photos quite a lot so now you know! I also have a little scented clay shoe hanging on one edge of my mirror - this was a Christmas gift from my auntie and I think it fits in really well.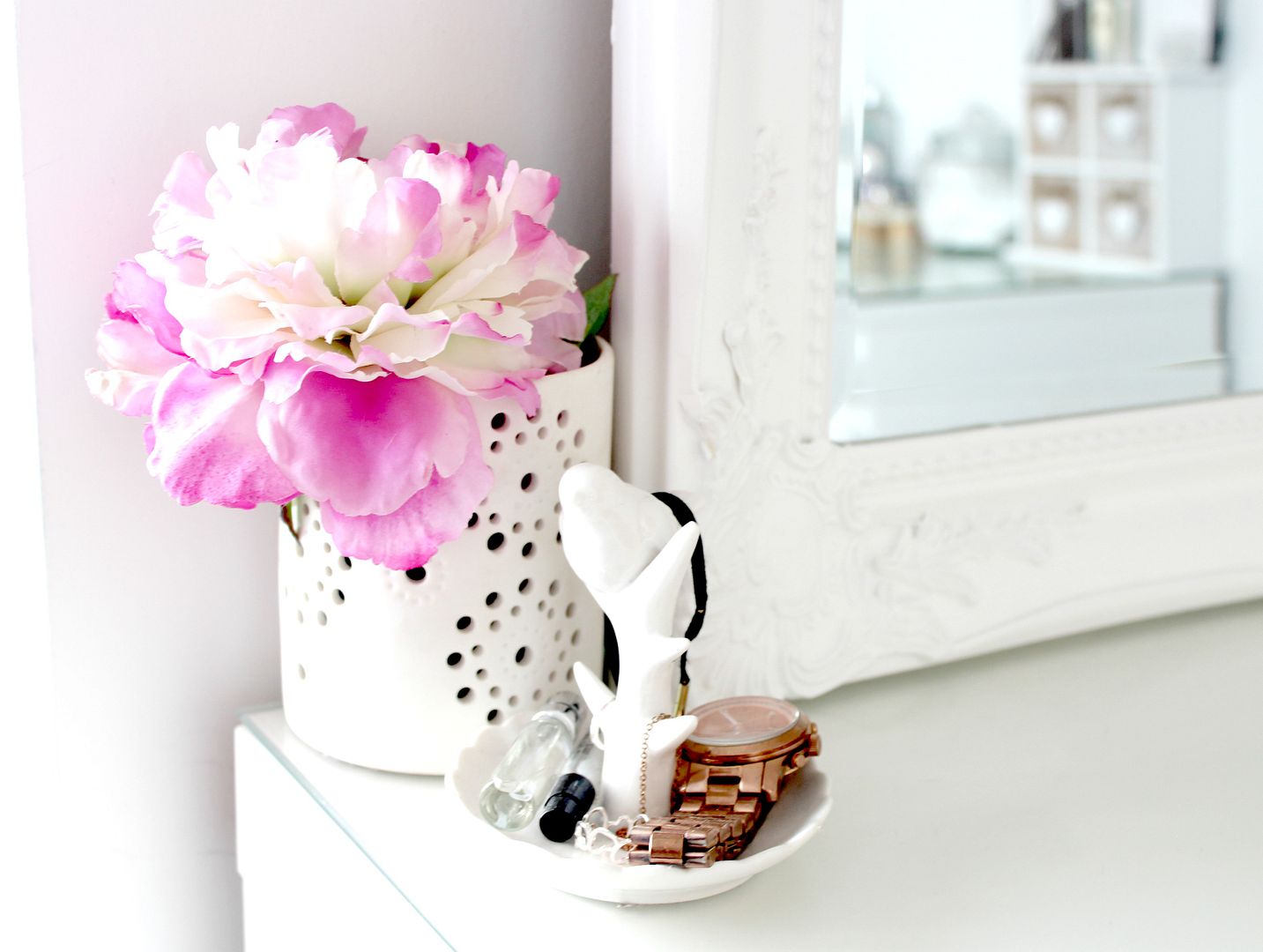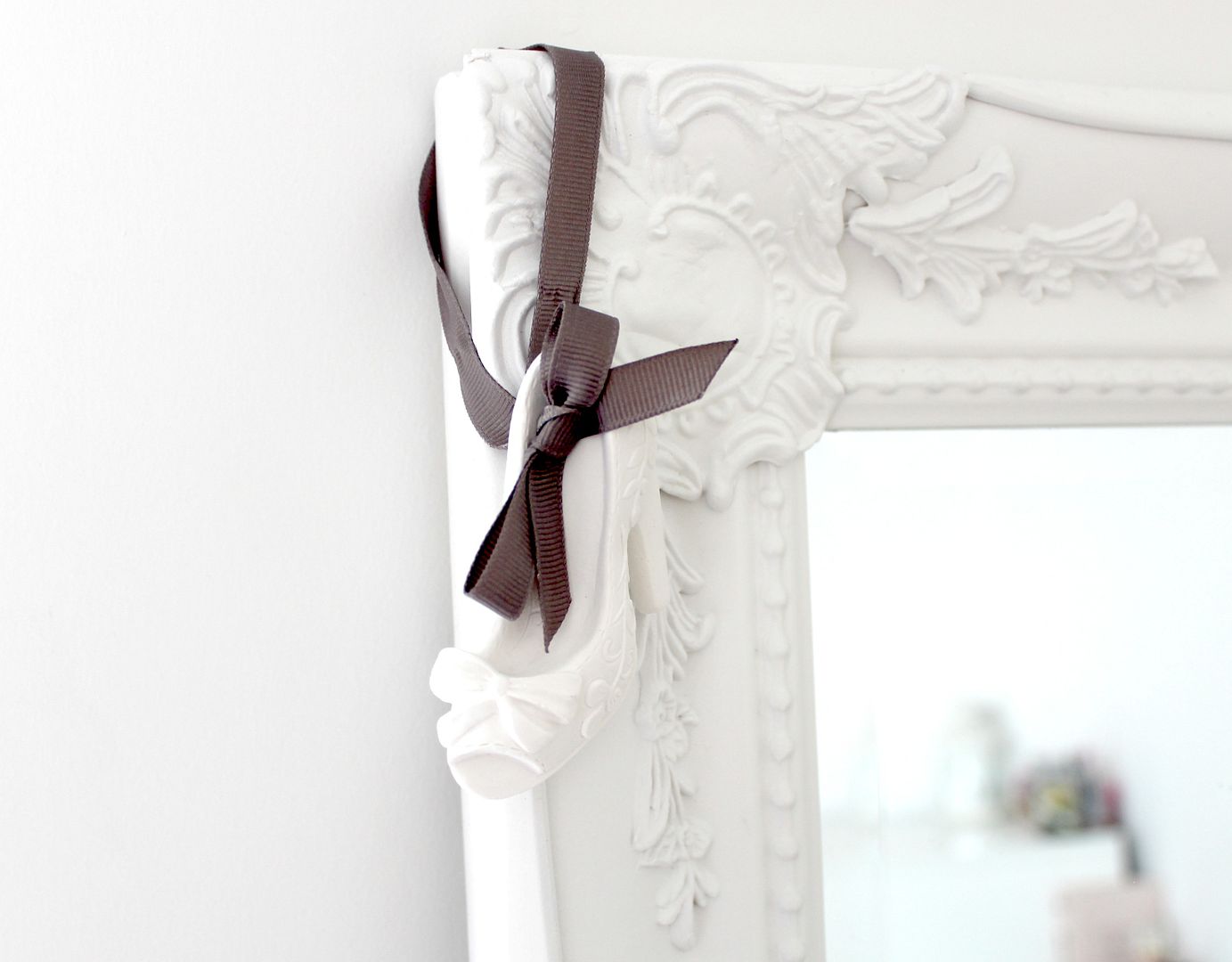 Well there we have it, my current dressing table set up and storage situation! Congratulations if you managed to get the end of this post and if you did, I hope you enjoyed having a sneak peek into how I store my collection and hopefully its given you a bit of inspiration for your own.
How do you store your makeup??