Clarins is one of my favourite brands so I'm always excited when I'm given the opportunity to try their new releases. They never fail to impress me with skincare or makeup and their products always do exactly what they say they will on the bottle! They recently released a range of new products for spring and I can't wait to share them with you all as I can already tell these products are going to become absolute must haves for me.
Firstly, I have to talk about their new lip products which are both new additions to their popular 'instant light' line. The Instant Light lip perfectors are loved by many, and I have a feeling these new products will be just as well loved.
The Instant Light Lip Comfort Oil* (currently sold out) is an innovative new lip care treatment and unlike the usual lip balms, this is an oil infused with various plant oils such as organic jojoba oil that help to nourish, plump and soften the lips. I was really intrigued by this when I was saw it and was worried it might feel greasy on my lips but its actually very light and feels like a none sticky lip gloss. I haven't used this enough to comment on the effect its had on my lips but it certainly feels very comforting upon application! I shall report back with my thoughts!
The other lip products I've been trying are the Instant Light lip balm perfectors* and I'm completely in love with them. Super moisturising and shiny, pretty colours that transfer well on to the lips and a a lovely hydrating formula that feels like its doing the lips some good! The three shades I've got are Coral which is a pale peach, Orange which is a true orange and Red which is a nice raspberry pink shade. The names aren't all that original but the colours are beautiful - my fave is 'Red' which is what I'm wearing in the bottom image. Clarins claim that these provide 4 hours of non-stop hydration and make lips look fuller and perfectly shaped. Whilst they don't last on the lips for four hours due to the glossy formula, I'd have to agree that they do hydrate my lips and make them look nice and full. These are a must try!
Next up is a product I haven't yet tried (I'm saving it until the weather warms up) but I thought I'd include it anyway as its another new release. The Clarins UV Plus Anti-Pollution Multi Protection SPF 50 Day Cream (wow, what a mouthful) which is set to be released on 8th March is designed to keep the skin hydrated and more importantly protected when the sun is shining. I get very conscious about getting burnt and damaging my skin in the Spring / Summer months so I imagine this will become a daily essential for me if its anything like Clarins other day creams which are all light on the skin by nice and moisturising. I'll keep you posted on this one!
Finally we have the new Everlasting Foundation+* and I've saved the best till last as I bloomin well love this foundation! Its a full coverage foundation which I really like - it covers redness and uneven skin tone without making my skin look cakey. It has what I would describe as a semi-matte finish - its definitely more on the matte than dewy side but it still lets your skins natural luminosity shine through. I've got the colour Beige which is a perfect match for me as its yellow toned without being too yellow and look unnatural.
However, w
hat I love most about this foundation is its staying power. Clarins claims it last up to 18 hours on the skin and while I'm not sure about that as I don't tend to wear my foundation for that length of time, it definitely lasts all day. I'm the type of person who is usually touching / picking at my face all through the day at work and by the time I leave I look like I've not got any makeup on. However, with this foundation, I've noticed my makeup still looks fairly flawless after my eight hour shift. Amazing! I'll definitely be using this a lot in the Summer months to stop my face from getting too shiny and it also contains SPF15- win win! I might do a more in depth review on this as its definitely a new favourite!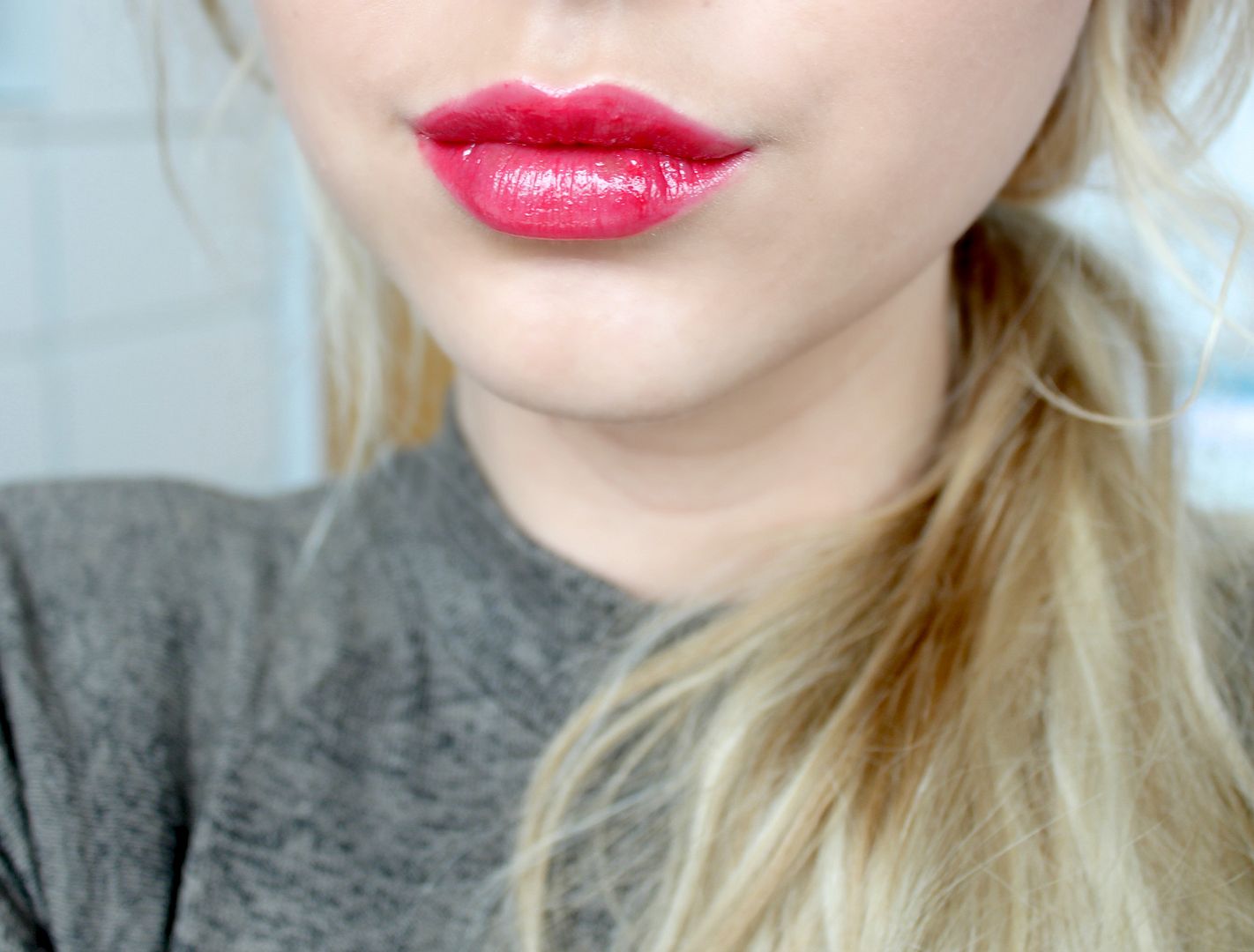 I have to say I'm so impressed with these new products from Clarins and I can't wait to use them more! The lip balms and foundation will definitely be a Summer makeup bag must have and I'm looking forward to keeping my skin protected with the moisturiser. As for the lip comfort oil, I'm going to keep that in my bedside table so I can treat my lips before bed each night!
Do you like the look of these new Clarins products?