Happy March guys! How on each it is March already in beyond me - wasn't it only just Christmas? Anyway, I'm not complaining as Spring is now well on its way and the weather should hopefully *fingers crossed* start warming up soon. It also means I'll be able to start wearing BB creams, cream blush and pastel nail polish again very soon. Yay for Spring beauty. For now, here's my Feb faves ...
Clarins Everlasting Foundation+* |
Link
I love trying new foundations but I'm quite difficult to please as I don't like anything too matte or anything too shiny, it has to be somewhere in between. I also like it to have a good coverage but also let my natural skin show through so my face doesn't look caked in makeup. Well, I'm in luck because Clarins new Everlasting+ foundation does all of those things perfectly. It has a gorgeous Satin semi-matte finish, great coverage and is really long lasting. I love it!
NARS Copacabana Illuminator* |

Link
I recently featured this in my favourite highlighters post as I've been really enjoying mixing it in with my foundation to give my skin a radiant glow. Its a beautiful champagne silver shade with a metallic finish and it has a really light texture. I also love using it on my collar bones and down the fronts of my legs! I'd love to try the multiple version of this now!
Chanel Incandescente Rouge Allure Lipstick* |

Link
I love a red lipstick and this one from Chanel with its beautiful orange undertone has definitely been my favourite since receiving it at the start of Feb! As I said, its the most gorgeous orange toned red and the formula is beautiful too - its matte without being too matte (lets call it a Satin finish) and don't even get me started on the packaging. Totally swoon worthy!
Bourjois Colour Boost Lip Crayon* |

Link
I was recently sent a selection of Bourjois new Spring beauty releases (keep your eye out for a post on those soon) and I've been really enjoying giving them a try. I already loved their Colour Boost Lip Crayons so when I saw they were adding some new shades to the range, its safe to say I was excited. I've been loving the shade 'Sweet Machiato' recently as its a nice brown nude - a very nineties and Kylie Jenner kinda shade!
The Vintage Cosmetics Company Eyelash Curlers |

Link
These are the best eyelash curlers I've ever used, hands down. There's not a great deal to say here other than they curl my lashes really well and hold the curl nicely too. Plus, they're rose gold, what's not to love?
Zoeva Powder Polish brush* |

Link
I'm a big fan of Zoeva brushes and lately, my favourite has been their relatively new Powder Polish brush as its perfect for applying liquid foundation. Before I got this brush I was using my Real Techniques Buffing brush of Zoeva Silk Finish but I find this one works better than them both. The bristles are quite dense but exceptionally soft on the skin at the same time which I love as the dense bristles mean product doesn't get sucked into the brush instead of going on the skin. I can't explain what it is I love about this brush in writing - its just one of those things you need to try for yourself. All I'll say is that if you want a flawless finish, this is a little gem!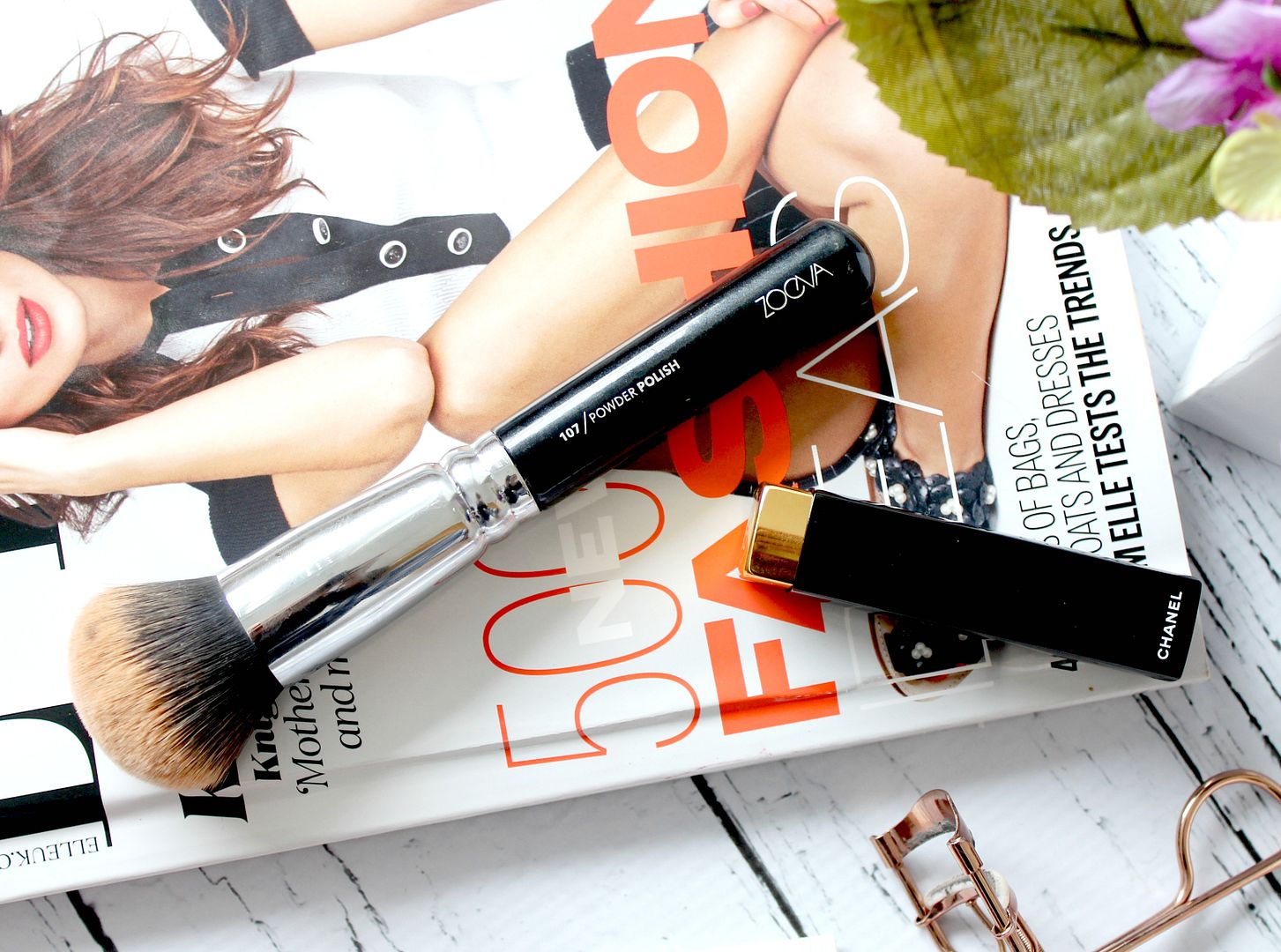 Throughout the week, I always have my hair tied up. I'm really lazy in the morning and would rather have that extra ten minutes in bed - don't judge me. With this beign said, I'm absolutely loving using Invisibobbles instead of regular hair ties in my hair as I find they're more gentle and the clear ones in particular are great as they blend in with the hair nicely. I don't find they leave my hair kink free like they claim to but I'm not too bothered about that as my main reason for using them is to prevent my hair snapping from wearing my hair up too often.
Elizabeth Arden Eight Hour Cream* |

Link
This is a bit of a cult product in the beauty world and for good reason, its such a great little multi-tasker. I've featured this in a previous monthly favourites so I do apologise if you're bored of hearing me talk about it but I've been loving it this past month to keep my lips in good condition. Admitedly it doesn't taste great but it does such a good job at hydrating my lips - better than any lip balm I've ever used before. However, I'd recommend keeping this well away from boyfriends - mine decided he'd smear it all over his face and hands last night as they 'felt a bit dry' - what a waste! Haha!
Philip Kingsley Daily Damage Defence |

Link
I bought this from Feel Unique at Christmas time as it came with a sample of Elasticizer too and was only £5 - total bargain! Since then, I've gone through a whole bottle of it and have bought another. I'm not sure why I love it so much but I think the scent alone plays a big part. It smells absolutely gorgeous and I love spritzing it on my hair before using heat to ensure its protected. I'm not sure if it actually works as its hard to tell but I like to think its doing my hair some good!
What have you been loving lately?